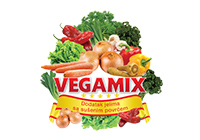 Since 1999, the company is also engaged in the production, packaging and sale of VEGAMIX – a condiment made of dehydrated vegetables. In 2004 the company is renamed VEGA-MIX Ltd. Zivinice. Today, the main activities of the company are the production and packaging of the spice VEGAMIX, and the exclusive distribution of salt for the territory of Bosnia and Herzegovina, in close collaboration with Solana Tuzla.

When the company first started, the main activity of Vega-Mix Zivinice was food products wholesale and retail trade, and transport of goods on domestic and international markets. In addition to its existing business units, such as spice production and salt distribution, Vega-Mix has opened new business units throughout the country over the past few years, and has been trying to bring its products closer to the entire Bosnian market. The Salt Sales Agreement with Solana Tuzla is another important aspect of Vega-Mix's business. In addition, Vega-Mix has also started a fruitful cooperation with the famous Slovenian wine producer Metlika.
The basic product of the company is VEGAMIX, a salt based product with the addition of dehydrated vegetables and flavor enhancers. VEGAMIX is a spice that is added to food, vegetables meals and meat dishes, and it particularly enhances the taste and flavor of cooked meals. With its special mix of spices VEGAMIX is a product that has its own recipe, and the company is very proud of it. VEGAMIX spice has won prizes and acknowledgments as a confirmation of product quality and excellence. Among other awards, the spice is also the winner of 10 gold medals for quality from various food and beverage fairs in the country and abroad.
The Vega-Mix spice company recently expanded its activity to disinfection, disinsection and deratization, and established a Sanitation Business Unit in Tuzla, which employs highly educated, qualified and experienced staff, ready to perform all business tasks.
The work system is customized and executed according to ISO 9001: 2008 standards.
The mission of Vega-Mix is ​​to produce high-quality spices and seasonings, the expansion of business influence on the market and the constant investment in modern production.
The company's vision is to grow into a high-profile import-export company, expand its core domestic business to tourism, catering and general representation of foreign products.