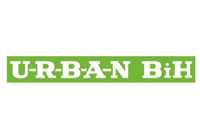 URBAN BiH is the leading distributer of equipment for PVC and aluminum doors and windows in Bosnia and Herzegovina. Some of the equipment include machines for the processing of composite panels, glass processing and handling equipment, air compressors, tools and accessories, second hand machines for cutting, welding and sash assembly.


The company also offers professional equipment installation services, proficient service during warranty period and after warranty period, supply of spare parts and other means of support.
URBAN BiH is present on the market of Bosnia and Herzegovina since 1999.
The company established cooperation with some of the best known manufacturers of industrial PVC panel machinery. The company's extensive range of products grows larger every day, which is why URBAN BiH is able to satisfy even the most demanding customers. Besides machinery made by Urban and Rapid, Urban BiH offers machinery under the brand names of THORWESTEN, TEKNA, PERTICI, FUX, AGRE Kompressoren, WEMARO, BOTTERO, EMAR, MUYEN B.V. – equipment for glass processing, and FLOW – water jet cutting systems.
As part of its huge PVC machinery retail platform, URBAN BiH offers single machines for small production, but also completely automated production lines for medium and large production facilities. CAD software and knowledgeable consulting during purchase of the machinery are also part of the company's sales offer.
In order to accomplish all of the aspects of its business strategy, URBAN BiH respects the integrity and performance of every individual, and is always giving the best possible support to its partners and clients. As a company, URBAN BiH follows the wise words of Mr. Robert Bosch: "I would rather lose money than trust".
The effectiveness and efficiency of URBAN BiH are the key factors of successful collaboration with its partners and clients. URBAN BiH developed a trustworthy relationship with its partners and clients because the company is capable to foresee their needs, and is able to provide them with solutions and answers even before they ask for it.
URBAN BiH values transparency and open communication. URBAN BiH fulfills all of its promises to partners and clients. The company carries out all of its obligations and completes its work to the very end, recognizing and solving additional problems that need to be solved, in the process.
Without innovations there is no progress. URBAN BiH believes that progress can be achieved only by innovative thinking, by upholding to fundamental business values, and by finding a better, more creative, more effective and more efficient solutions for its clients.
Mission of the company URBAN BiH is to give top quality services and to respond to customer demands, to invest in staff education, and to improve the organization by implementing quality management control.
Company vision is to establish and to keep the leading position on the market by providing professional solutions for manufacturers of PVC and aluminum doors and windows.