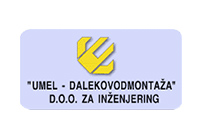 Umel Dalekovodmontaza is striving to be recognized as a reliable partner and to gain the reputation of a company that takes care of environment and sustainable development. In the future, they are planning to work on renewable energy sources (solar panels, wind power plants, etc.).
The main activities of the Umel Dalekovodmontaza Tuzla Company relate to the design, manufacture, and construction of the transmission lines, underground cable lines and transformer stations, as well as telecommunication projects by the "turnkey" system.
Umel Dalekovodmontaza Ltd. performs all the necessary measurements and tests on electric power facilities for all purposes, and also on telecommunication facilities, by issuing the necessary documentation and releases of the mentioned facilities into operation.
Umel Dalekovodmontaza Ltd. owns complete human resources as well as mechanization, equipment and tools for construction of power lines and transformer stations (at voltage levels of 0.4 to 400 kilovolts), cable lines and telecommunication projects (SCADA, antenna poles, optical cables and cables on transmission lines and substations with professional connections and measurements). The company's goals are to do a quality and fast work with minimal damage to property and infrastructure, especially taking into account the safety and protection of workers at the workplace. This also includes the attention the company provides for professional training and education for all of its employees.
Our vision is to become the leading international company in providing complete and quality services, above all by strengthening our position on foreign markets, contracting new jobs and penetrating new markets.
Our mission is to develop and maintain business relationships with domestic and foreign partners by providing high quality standards in the field of engineering, road and telecommunication infrastructure.