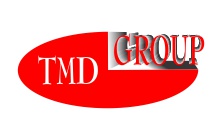 TMD Group is a business assembly of four companies, namely Kovgrad, TMD Mibo, TMD Automotive and UTL. Primarily focused on a customer satisfaction, with continuous improvement of technology and employee training, the group fulfils a continuous and steady growth in the demanding production process of bearings and parts for the automotive industry.
The main activity of TMD Group is import-export, and within this group TMD Mibo is concentrating on machining and processing of metal products, whereas the main activity of KOVGRAD is forging metal products. Together with the firm UTL from Sarajevo, the process of manufacturing outer and inner rings for bearings is completed.
At the beginning, TMD Mibo's main business was machine processing of metal products, then within the TMD Group, import-export has started, while KOVGRAD, for its main business, emphasizes the forging metal products. Together with the UTL firm from Sarajevo, the process of manufacturing outer and inner bearings for bearing rings is completed.
Today, TMD Group is a company that exports all of its products, 100%. With this in mind, the company has a clear vision of future business growth, especially when it comes to wide-ranging European market.
The company employs more than 500 employees, continuously investing in employee training in all fields to respond, in a productive way, to all tasks and future challenges as well as customer requirements.
Our customers are leaders in the automotive manufacturing world scene: Schaeffler Group, Benteler, SKF, ICSA, SNR NTN, DUCATI Energy, Zedce, MS Hydraulic.
The overall contribution to development, while improving the performance of a company is achieved solely by using its own resources. The company proudly owns ISO 9001: 2009, ISO TS 16949: 2009 certificates and they are planning to introduce by the end of this year ISO 14001.
Our mission is to face daily challenges and concentrate on manufacturing and delivering products that fully meet our customer's demands, while working in an ecologically friendly environment.
Our vision is to become the leading supplier of bearing components and other high precision steel components for automotive industry applications in the European market.