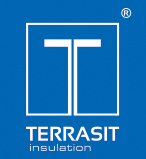 Terrasit Insulation (Fragmat Izolirka Ltd. Gracanica) is a company whose successful story began in 2000. With the development of new programs and new technologies, they have built successful and recognizable products in the field of heat insulation, floor heating and packaging.


The main activities of the company are the production of plastic masses, hydro insulation and thermal insulation materials, Styrofoam for insulation of the outside walls, production and distribution of insulation material. The company successfully cooperates with domestic and foreign buyers, business associates and clients. Over the years, customers have built up a long-term relationship that is based on company ensuring complete supply of insulation materials and continually monitoring the needs of customers. Together with its partners, Terrasit Insulation is always ready to solve any problem customer might have, complete with all of the solutions in the field of insulation.
Employees of the company represent their company with enthusiasm and pride, bringing products closer to their customers and their requirements. The company's products have guaranteed quality in accordance with all international regulations.
Customers of Terrasit Insulation can always expect helpful staff advice, a wide range of products, kind and always available sales staff, and flexible manual help.
Terrasit offers a wide range of quality products:
Thermal insulation in construction
Hydro insulation
EPS (expanded polystyrene foam)
Façade and external wall thermal insulation Demit
The benefits of EPS and other insulation materials produced by Terrasit are: easy installation, easy installation, water resistance, excellent thermal and acoustic insulation, environmentally friendly panels, protection against extreme cold, heat and moisture, good durability and long life span.
The desire for a more enjoyable and pleasurable way of life has resulted in the increasing application of thermal insulation in construction, both residential and industrial.
In accordance with these market necessities, Terrasit Insulation (Fragmat Izolirka Ltd. Gracanica)  has produced the highest quality insulation products for roofs, facades, ceilings, walls, foundations, partition walls, external walls and insulation for floor and wall heating.
The mission of the company is to keep its position as one of the top producers of insulation materials in the region, to invest in the environmental awareness of its own brands, and thus undeniably confirm the high quality of its product.
The company's vision is to be the leading provider of thermal insulation, floor heating and packaging products on the markets of Central and South-Eastern Europe.