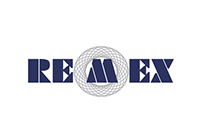 Remex Ltd. was established in 1992 with the primary activity of selling filters, spare parts for mining and construction machinery, and heavy mechanization.


The continuous progress of new technologies and tools, as well as the introduction of new automotive technologies and sales methods, are some of the main reasons for company's constant investments in new equipment, as well as in sales and service training. This is why, in accordance with high standards of the brands company represents, employees and management of Remex Group are able to successfully do their jobs, year after year.
Company Services Include:
Documentation, servicing and complete insight into the actual state of the machines, systematic failure detection and finding adequate ways to remove the failures
Maintenance and servicing of machines in guarantee and post-warranty period
Diagnostics – computer testing and technical determination of the correctness of the machine's system functionality
Regular and after-hours services
Lubrication, routine inspections and check-ups regarding the components of the machines
Remex Group is proud of its long-lasting cooperation with some of the world's leading manufacturers of diesel engines, oil and fuel filters, construction machinery, bulldozers and rotary drills, loaders and hybrid bulldozers, as well as construction companies specialized in complex construction woks such as deep foundation.
Dawson Piling, Cummins, Fleetguard, Joy Global, XCMG, Cukurova and P&H are some of the businesses partners with which the Remex Group has a current, fruitful and successful collaboration.
Remex Group is an ideal business partner, one that has an expert teams of accomplished employees and associates who continually explore the needs of the market, and who are able to meet all customer requirements. Consequently, the Remex Group puts special emphasis on communication and a fair relationship with its clients. Safety is also one of the key elements of the company business ethics, the company's first priority during every work day.
Needles to say, due to the constant and ever-changing development of modern technology, the Remex Group is constantly investing in the education and professional skills of its employees.
The mission of the company is to maintain and optimize long-standing cooperation with companies that Remex Group represents, and to synchronize its own business with the high standards of the mentioned companies and markets.
The vision of the company is to expand its presence on the market, establish cooperation with other world renowned companies, and meet all customer requirements with quality and safe service.