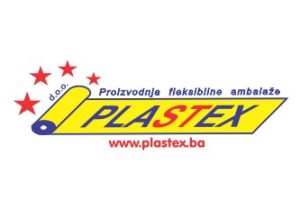 Plastex Ltd. was established in 1986 and is a manufacturing company for the processing of polymeric materials and the production of flexible packaging. It is located in the industrial zone of Gračanica, on a surface of 6.000 m2, with its own access road and electric power transformation substation, administrative building and four production halls of 3.500 m2.

The main activity of the company is the processing of polymer materials by the extrusion process and the production of flexible packaging. Plastex has annual processing of over 2000 tonnes of flexible materials. A sound development path, good strategy and pristine organization placed Plastex at the top of the market, as one of the leading companies of this kind in Bosnia and Herzegovina.
The company employs 70 highly trained and experienced workers who are able to meet every single demand that clients may have. Plastex's management is comprised of young and well-trained staff that has a clear vision of company's development.
The reference list of Plastex's satisfied customers and consumers on the Bosnian market is a guarantee of company's future success, as much as it is a confirmation of the company's achievements in the past.
Plastex's technology of polymer material processing by extrusion, flexography, printing, and regeneration makes a complete production process in the design of flexible packaging. Flexible packaging has a wide range of applications in the food, chemical, textile and other industries, and is the most important part of Plastex's production.
Plastex Ltd. produces high quality packaging, and because of the company's ability to continuously provide a quality product, Plastex is at the very top among the Bosnian polymer material processors.
In addition to being able to offer quality packaging, the company also has effective design and marketing solutions for the look of packaging.
Modern, automated machines and equipment are also a significant resource with which the company has the ability to respond to all customer requirements. Plastex's own warehouse space offers the ability to create inventory of finished products for the most prosperous customers.
Partnership, discipline, responsibility, expertise, courtesy and loyalty have made Plastex an extremely desirable business partner. Thanks to these qualities and its customer-orientation business plan, Plastex has built a strong relationship with representatives of all industrial branches in the region, a relationship that will continue to grow in the future.
The mission of the company is to satisfy all of the customer needs by introducing new technologies and achievements in the field of polyethylene processing program as well as other flexible materials.
The company's vision is to invest in its employees, to be in the line with the modern way of producing and placing products, and also to be able to recognize new potential markets.