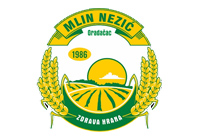 The main activity of the company is the production of wheat and integral (whole-wheat) flour.
Mlin Nezic began with the production of flour back in 1986. Beginning with a production capacity of 30 tons per day, the mill was developed in 1990. as a private company "Eurotrans", which was at first conceived as a public transport company.
In 1996, Mlin Nezic invested in a transport and transportation services, and by the year 1999 the company slowly transformed itself into wheat processing facility, by importing and using entirely domestic raw materials. Soon after, in 2001, a construction of a new mill was needed, a mill which was able to produce up to 100 tons of processed products per day.
Currently, Mlin Nezic employs 40 highly skilled workers. The demand for Mlin Nezic products has been growing steadily year after year, so much so that the mill was working overtime, just to satisfy the market. Therefore, in 2009, a new project started, construction of a new mill and a 12,000-ton silos area on a 15,000 m2 plot, where it still stands today.
Today, Mlin Nezic has a production capacity of 200 tons per day, in factories with modern equipment, software management and modern packaging, which is why Mlin Nezic Ltd. is now able to adequately respond to all market needs.
Despite this enviable capacity, market demands are getting bigger and bigger every single day, which is why Mlin Nezic plans to open additional mills in the very near future.
The mission of the company is to meet market demands, invest in new production facilities and continually produce high quality flour.
The vision and plans of the company is to expand and finalize the palette of mill and bakery products with biscuits, and other traditional recipe pastries with a specific flavor and attractive look.