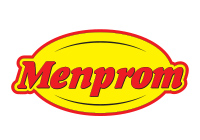 The main business of Menprom is the production of high quality meat products and lunch meats made from chicken, turkey and beef. "Production of domestic products of superior quality", is a clear motto of Menprom Meat Industry, a family company founded in 1998.
Superior meat products of high quality chicken, beef and turkey meat made Menprom one of the leading meat industries in Bosnia and Herzegovina. From the very first day of the production, Menprom Ltd. has been offering a wide range of healthy, delicious products produced with special care and unique recipes. A list of meat products Menprom can offer to its customers consists of cured meats, ham, sausages and semi perishable sausages, salami, dry sausages, canned meat products, ready meals, pâtés, frankfurters and fresh meat.
Menprom is especially proud of its products BBQ Sausage, Beef Smoket Meat Premi and Chicken Pollo Bologna.
The combination of natural traditional flavors and proven top quality meat, along with continuous investment in new knowledge and technology, as well as expanding and upgrading its production capacity, resulted in the increasing demand and interest for Menprom's meat products. A proof of this are the numerous medals, prizes and plaques the company has received, which is only a part of recognition for everything that they have been creating and producing for years. However, what Menprom is particularly proud of is the fact that the quality of its meat products gained the trust of domestic buyers and became a recognizable household name and brand in Bosnia and Herzegovina.
In the age of the ever-increasing demands for food safety Menprom responded by introducing ISO 22000-2005 International Standard in 2007. This means that the meat processing at Menprom Ltd. is conducted in a premeditated, orderly fashion and under carefully planned and supervised conditions, applying the strict HACCP principles and requirements.
This also means that Menprom Ltd. became the first food industry in Bosnia and Herzegovina that owns this certificate. At the end of 2008, Menprom successfully implemented HALAL certification in its production lines. In addition to the certificate, the health control and quality control of its products, Menprom also performs routine checkups on a daily basis, within its own laboratory equipped with the most modern equipment in the area.
Today, Menprom represents a dynamic, contemporary enterprise with 160 employees, mostly young, creative, highly educated and ambitious people. Their daily goal is to justify the trust and satisfaction of long-term customers and to make Menprom's products even more accessible.
Menprom's respectable relationship with its employees is another reason why Menprom is such a successful company. Menprom Meat Industry offers additional opportunities for those who are decisive and who want to develop their professional skills. Menprom Ltd. also offers ongoing education through various lectures and seminars, which ultimately contributes to a better development of the company and its progress.
Our vision is to be the standard measure of quality, innovation and, in particular, to be different and to provide our customers always something new that will meet their needs.
Our mission is to win the trust of customers and consumers by providing high quality products of superior taste and to achieve added value through the constant development of our products.