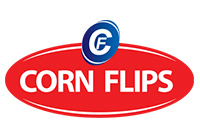 Company Majevica d.d. Srebrnik was established in 1950 and since 1967 operates as Agricultural Cooperative. Since 1979 company Corn Flips and Distribution Center Srebrenik have a completed production circle and business practice with its own stores, transportation, and agricultural production, as well as confectionery products and its own storage facilities for food products.
Primary activity is processing of potatoes and producing potato based food products. Factory Corn-flips operates since 1980. Its production assortment then includes extruded products based on corn starch and peanuts. When the need aroused for a wider range of products, a new production line was placed for processing and packaging of dried plums, pumpkin seeds, and a line for coffee processing and packaging. In 1998 the factory started producing potato chips, which also meant a greater involvement of local potato growers.
Most recently new equipment is acquired for production of extrusion based products. Company Corn Flips manufactures following product groups: Flips products, cream products, peanut based products, chips, and sweet products. Main product is Gold Flips. As the leader in this branch of industry, brand Gold Flips is the brand enjoyed by kids and adults.
Most important aspects of our products are reliability and reputable product quality as well as affordable pricing policy. Short term and long term plans for the growth of the company are based on investment with a new product line and product improvement (new tastes, design, and brand positioning), as well product placement in new markets for our current and new product selection. Working with College of Technology at the University of Tuzla and other science and research institutions have proven to be successful apparent in numerous awards and quality recognition at regional and international fairs and expos.
Annual contracts are based on potato growing on over 80 hectares of land with investments of 100.000 EUR and continuous investment in the factory, its facilities, equipment, ISSO and HACCP standards, as well as planned new production line for chocolate and cream products. Newest addition is also a refrigeration unit capable of holding approx. 1000 tons.
Company Majevica currently employs 68 employees and is certified with ISO 9001; ISO 14001-2105; FSSC 22000 standards, and ecology standards ISO 14001-2105.
Our vision is to ensure sustainability and independence in our business practice with a grown based on our own resources. Our goal is to continue our long tradition in producing high quality products, reliability, and responsibility toward our customers who trust our products.
Our mission is to ensure high quality of our products and to wow our customers.