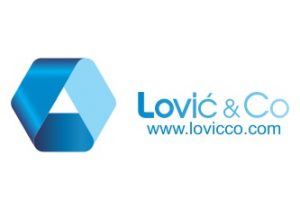 The main activity of Lovic & Co is the production of trapezoidal sheets, metal sheet roofing complete with metal sheet accessories and supplies, electric, hydrant, post office and wardrobe cabinets made out of metal, as well as distribution of commercial metal heating cabinets.  All products manufactured by Lovic Ltd. are renowned for its outstanding quality.

The company's production plant, located on 6000 m2, includes several production facilities equipped with state-of-the-art production technology and machines, as well as experienced and skilled workforce, allowing the company to meet all market needs. Lovic & Co cooperates with over 300 construction companies throughout Bosnia and Herzegovina, but also with companies from the region. In addition to the products mentioned above, Lovic & Co manufactures metal trolleys for tools, tool boards, metal shelves, and other custom made metal products. The company's fabrication process is based on a successful long-standing experience in sheet metal installation, trapezoidal sheet metal construction and sheet metal construction. Employees are therefore able to meet not only customer requirements, but also help with advice and answer all questions and concerns if needed, and thus get the best possible solution for the client. It is important to highlight that Lovic & Co is also engaged in the production and installation of construction metal ware.
When carrying out construction and production works, the firm relies on its own resources to ensure high quality of service. With a detailed selection of materials, technology and trusted list of suppliers, the company has created products that market demands and desires. Many satisfied customers have recognized Lovic & Co as a unique manufacturer of rainwater drainage systems and gutters, as well as other roofline systems.
The employees and management of the company know very well that customers, besides fast service and acceptable prices, want a quality product first and foremost, which is why Lovic & Co has the most up-to-date metal sheet processing machines, but also, this is why the company insists on continuous employee training courses, all in the interest of perfect product and perfectly satisfied customers.
Wide range of products and stylish colours, simple installing techniques, fast delivery and installation, gives any given customer a promising assurance when purchasing at Lovic & Co. The professional staff of the company is made of experts who successfully carry out the most demanding tasks, thanks to their knowledge and experience. Lovic & Co is always striving for continuous improvement and modernization of its own production facilities and business methods, which is why Lovic & Co Ltd. is one of the Bosnian companies that has a steady and successful growth and development.
The mission of Lovic & Co Ltd. is to be a modern, flexible, efficient and innovative company, recognizable by the quality of its products, professional attitude, and customer satisfaction.
The company's vision is to build and develop a long-term relationships with customers and consumers, and quickly, qualitatively and reliably meet all customer and business requirements.