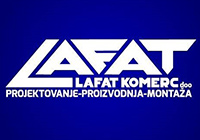 Company Lafat Komerc was established in, now distant, 1977 in Zvornik by the name of Limarija Lovic. Since 1997, when the production again began now in Kalesija, the company carries the name Lafat Komerc. For over 39 years, this company specializes in sheet metal processing and treatment, while manufacturing of metal products. Today, Lafat Komerc is one of the leading companies in its field in Bosnia and Herzegovina and the region.
Company Lafat Komerc Ltd. primarily manufactures home appliances that are nonelectric. It also specializes in sheet metal processing and treatment, including metal products manufacturing. Its facilities are located on 66.000m2 sized factory, with 15.000m2 allocated for production and storage. Lafat Komerc is also the leader in manufacturing and sales of boilers and furnaces. Impressive product range includes: flue program, cabiinets, pellet boilers and solid fuel boliers. Product quality, reliability, design and customer support is what sets Lafat Komerc apart from the competition.
Company currently employs 315 employees with 10% of them as college graduates, 85% high school graduates, and 5% have completed elementary school education. Over 70% of the employees are under 30 years old. Company also hold certified standard CE, ISO 9001:2008.
Improving manufacturing process, efficient human resources management and high productivity, continuation of our long metal processing and manufacturing tradition are the foundation of successful and responsible business practice of Lafat Komerc.
Our vision is to create new trends and standards in the field of innovative energy solutions for heating systems.
Our mission is to be the leader in metal and sheet metal manufacturing, while conquering the global markets with our biomass boilers and furnaces.