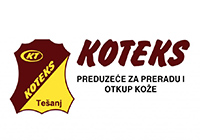 Leather production has been present in Tešanj area for many centuries. In historical documents, it is clearly stated that leather industry exists here since, at least the 15th century. Continuing this tradition, in over two decades of company's existence, excellent business relationships have been formed with local and international suppliers and clients. Koteks' responsible business practice has earned the company a reputation of trust and reliability at the market place.
Primary orientation is based on purchase of large and small skins, treatment of leather, production of leather clothing both men's and women's, accessories, and footwear. Koteks d.o.o. from Tešanj, is the leading name in leather industry in Bosnia and Herzegovina and internationally. Its production line creates high quality products that range from its raw hide program, to leather and textile clothing line, fashion and work clothing and footwear program, HTZ equipment and leather accessories.
Wide range of products also include leather and textile equipment for police and military forces, equipment for security guard companies, equipment for ballistics and peace and order units, motorcycling equipment, equipment for sports, hunting and fishing, footwear and leather clothing line, as well as leather accessories and reupholstering of seats and vehicle interior furnishing.
Koteks believes in:
revival and prosperity of the entire leather industry in this region
creating new quality brands and products in Bosnia and Herzegovina
considering our employees as our greatest asset
law abiding and fair play business practice
meeting the needs of our local and international buyers and local suppliers
working together with all of our partners and employees toward a common goal
inclusive decision making process with our partners
Koteks employs 200 employees with more than 100 of them highly qualified in the leather treatment and production. Most of them have been trained within the Koteks training system. Koteks conducts its production in accordance with ISO 9001-2008, ISO 14001-2004 and OHSAS 18001-2007 standards.
Our vision is to be the leading company in leather industry in Bosnia and Herzegovina with a unique goal of manufacturing high quality products while generating additional value to our community. We plan to accomplish our goals using new technology, meeting and improving our ecology standards in accordance with a sustainable growth, generating highly qualified work force, and fulfilling our obligations to the suppliers and buyers.
Our mission is to offer high quality products to our clients working together with our business partners, our employees, and our local community as a whole.