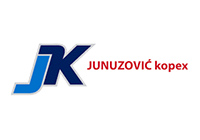 JUNUZOVIĆ-kopex is an influential participant in the oil and petroleum products market. The firm was founded in 1996 with headquarters in Lukavac and its 100% private property.
The core business of JUNUZOVIĆ – kopex d.o.o. Lukavac include transport, engineering and mining, import-export, transport of goods and other services.
Since the originally registered activities, like construction of the road network, concrete production and transport services, the company today has created an important profile in the field of oil and petroleum products, wholesale and retail, providing domestic and international transport services, as well as providing services of construction machinery. The company works with the most modern machines of the brand CATERPILLAR, KOMATSU, and TEREX, which are: excavators, bulldozers, loaders and shredders.
There is a list of references and it can attest to a work that it's well-done, and also it can confirm the quality in construction and that JUNUZOVIĆ-kopex, is a company with high reputation in the field of civil engineering and mining.
Under the ownership of Junuzovic-kopex d.o.o Lukavac, in early September 2016, the first CNG gas station was opened. This is also the first gas station in the territory of Bosnia and Herzegovina.
The gas station was built in the district of the City and suburban traffic JSC Tuzla (Joint Stock Company), a company that is by majority, owned by Junuzovic-kopex.
In order to reach the Mission and grasp the Vision, it is necessary to undertake the work and efforts, to meet the expectations and goals of all who are primarily interested in the improved and excellent work of JUNUZOVIC – kopex, which are customers, suppliers, and the community.
That is why the core values of the company are:
A partner relationship with customers,
A partner relationship with suppliers,
Responsible attitude towards the community,
The welfare of our employees.
As an additional measure of continuity in maintaining the quality of petroleum products, the firm has signed a quality control contract with the homeowner of quality control of oil derivatives RGH Inspekt d.o.o. Sarajevo.
The firm currently employs 80 workers, and aims to expand both in human and technical resources
Our vision is to provide top-quality service and product quality, thus to respond to market requirements.
Our mission is to continually improve our business, make possible for every customer to access quality products, so that we can provide ultimate customer satisfaction.