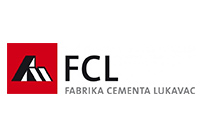 FCL is a Joint Stock Company and the leading manufacturer of Portland and masonry cement in Bosnia and Herzegovina.



After the process of privatization in October 2001, FCL became a member of the prominent Asamer Business Group from Austria. The cement factory in Lukavac is now in majority owned (99%) by Asamer Baustoffe AG. The company Asamer is one of the European leading companies in the production of gravel, stone, cement and concrete. It extends to the markets of Austria, Slovakia and Bosnia and Herzegovina. The Asamer Group employs over one thousand workers. As a subsidiary company of ASAMER Holding, FCL continues to strengthen its position on the construction market of Bosnia and Herzegovina.
FCL's products are crucial components in the production of concrete. As such, cement produced in FCL factory is one of the most important building materials in construction, and a key component for a stable and safe building construction. The praise of cement quality produced in FCL comes from all corners of Bosnia. FCL's cement has been in use for almost 40 years now, for construction of foundations, industrial and residential buildings, roads, complete infrastructure within and outside the state lines.
Steady economic growth, well-being of the local community, environmentally sound production, are the foundation of the FCL business philosophy. FCL is a company that has a long-term business strategy, which consists of continuous investments in modernization of the factory, environmental preservation, product quality improvement, employee training and staying in touch with its customers and their demands. This business strategy has resulted in gaining of the ISO 9001: 2008 and ISO 14001: 2004 certificates.
As part of the FCL Company there are several branches in Banja Luka and Eastern Sarajevo, whose main activity is the production of concrete. FCL is also a 50% owner of the limestone mine "Vijenac", an industrial quarry that, together with FCL, supplies other factories in the city of Lukavac, and also provides stone components for concrete and lower layers of asphalt. The geological reserves of this quarry are estimated at about 350-400 million tons. FCL also owns CEDIS Ltd., a company for production, construction, trade and services.
In the last eight years, with over 200 million BAM invested, the Asamer Group has done an almost unimaginable business and ecological revival of the cement company in Lukavac. From an unwanted and neglected factory, built in 1974, with a modest capacity of 300,000 tons of cement per year, FCL quickly became one of the leaders of cement production in the region, tripling its production capacity since 2009. Currently, the plant produces over 800,000 tons of cement and 600,000 tons of clinker bricks per year.
An educated, highly professional, responsible and satisfied employee is one the foundations of the company's business successes. By insisting on and consistently nurturing such professional attitude, FCL has become the leader in cement production in Bosnia and Herzegovina.
The company's mission is to meet demands of its customers by using cutting edge technology in cement production, and to follow the strictest manufacturing principles of work-related safety, health and the environment protection.
The vision of the company is to ensure long-term stability, business transparency and high quality production, and to meet all of the needs of its customers, business associates and members of staff.