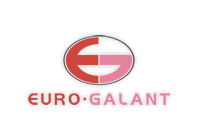 Euro-Galant has a range of quality products, including suitcases, men's and women's handbags of all sizes, colours and shapes, all types of leather products and fine accessories for men and women, women's and men's leather belts and wallets, specialized waiter wallets, women's and men's cosmetic bags, leather desk folders and planners.


The main activity of Euro-Galant Ltd. is the production of leather goods and accessories, namely:
Business Leather Garments
Furnishing leather accessories
Euro Galant Ltd. was founded in 1997 and currently employs 120 workers.
The company's products are well known and recognized for flawless quality and stylized look, specifically intended for modern women and modern men.
All of the Euro-Galant products are made of the finest materials and the best quality leather. With current ever-growing market conditions in mind, Euro-Galant has seen a chance to develop a prosperous business development through production of products whose quality will be unquestionable, products that are simultaneously essential and necessary but also a part of a sophisticated, charming and contemporary look. This is why the company has opted for the production of leather accessories, following the latest fashion trends and the highest standards of endurance and quality. Euro-Galant has a modern leather processing and manufacturing technology, experienced, highly motivated and educated employees, and a sound production and business plan, everything it needs in order to satisfy its customers and business associates. The company also holds its own studio-modelling shop where original fashion accessories are made, as well as custom made leather handbags and accessories. Euro-Galant currently exports 98% of its products to Switzerland, Germany, Italy and Slovenia. The company is open to future cooperation with other European countries.
The mission of Euro-Galant Ltd. is to remain a recognizable brand in the market of leather garments, namely the production of the highest quality leather bags and other fashion accessories made of leather.
The company's mission is to expand the production line with new elegantly and fashionably designed products, to find new markets for those products, and to further strengthen its relationship with existing partners and customers.