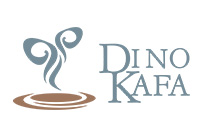 At the beginning of 2003, in a town of Živinice a small artisan shop by the name of Pak centar was founded. The shop's main services were liquid packaging and powder products packaging, as well as coffee processing, roasting and packaging. Later in 2003, the company introduced a brand new product under the name Dino Kafa, which soon became a trademark of the company, thanks to the outstanding quality of the product and huge popularity among customers.

The main activity of DINO KAFA is coffee processing, packaging and distribution.
Today, DINO KAFA is an ever-present brand in the area of Tuzla Canton. Over the last two years, the company's growth has triggered the expansion of trade in other Bosnian markets. Two new outlets opened up, one in Sarajevo and the other one in Bihac, from where the company distributes its products to Krajina, Central Bosnia Canton and Herzegovina.
Dino Kafa, the first product that the company has launched on the market, is made of the finest types of raw coffee, roasted and ground in the traditional Bosnian way. It is intended for the preparation of old-style, real Bosnian coffee. This is currently the best-selling product of the company. DINO KAFA – SPECIJAL is made of the finest Minas coffee beans, with a specific aroma and creamy foam that gives the coffee a recognizable taste and irresistible smell. It is well received among all generations.
DINO KAFA is the winner of the Gold Medal for Quality at the International Fair of Agriculture and Food Processing Industry – Sajam sljive Gradacac in 2008, 2009 and 2010. The company is also the winner of the gold medal for quality at ZEPS Fair in 2008 and 2009.
However, the management and employees of the company are the most grateful for the loyal customers who have recognized the richness of taste and excellence of Dino Kafa.
The company's mission is to take the lead in coffee manufacturing business, to uphold a lasting relationship with its customers, and to be a modern company that constantly offers its customers only the best.
The clear vision of the company is to expand production, familiarize new markets with the irresistible taste of Dino Kafa, and to become a universally recognised brand throughout Bosnia and Herzegovina.