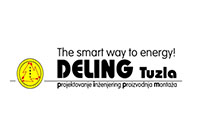 DELING was founded in 1991 and it started its operation the same year.




The main activities of the company have been production of:
Low Voltage distribution equipment (distributive and control cubicles, remote supervision and measuring)
Devices for compensation of reaction power for rated voltage 0,4 kV and 6 / 10 kV
Compact Transformer Substation 10(20) / 0,4 kV
Measurement modules on Medium Voltage
Medium Voltage plants Metal – Clad, rated voltage 12kV (7, 2), 24 kV and 36kV
Production of compact transformer cells series is a product of many years of experience coupled with the company's competent and professional staff.
Deling Ltd. is also involved in designing and running MV and LV plants, Substations 10 (20) / 0,4 kV and 35/10 (20) kV, all electrical installations of strong and weak current, electrical motor plants, control and supervision systems, electrical energetic networks and plants of Low and Medium Voltage, and engineering in the field of electrical design, production and installation.
DELING Company uses state-of-the-art computer programs Caddy++, EPLAN and AutoCAD, which enables the full potential of the company.
The company has all the necessary equipment for electrical installations (means of transport, CNC machines, and tools) and for inspection and verifying of all types of installations and plants.
In Bosnia and Herzegovina, DELING Ltd. is a reliable and permanent partner of many significant companies, such as GENERAL ELECTRIC COMPANY OF BOSNIA AND HERZEGOVINA, UTILITY DISTRICT BRCKO, GENERAL ELECTRIC COMPANY of RS, ENERGOINVEST Sarajevo, INSTITUTE FOR CONSTRUCTION OF SARAJEVO CANTON and BINGO Tuzla, just to name a few.
Abroad, DELING collaborates with many reputable companies, manufacturers of equipment in the field of electrics, such as ABB, SIEMENS, SCHNEIDER, KONČAR, SKW, ELKA, SITECO and PHILIPS.
In the field of design and development, apart from its own employees, Deling Ltd. works together with teams of professionals from the University of Electrical Engineering Zagreb, University of Electrical Engineering Sarajevo, and University of Electrical Engineering Tuzla.
In 2004 DELING was awarded with ISO CERTIFICATE 9001:2000 and in 2013 the company was awarded with EN ISO 14001:2004.
In 2010, DELING Tuzla Ltd. has introduced a new business in the field of legal, economic and financial consulting, and processing of financial information, as well as providing tax advisory services and representation for foreign business companies in Bosnia and Herzegovina.
The mission of the company is to justify and maintain the leading position in Bosnia and Herzegovina in the production of electrical installations and equipment, and in electrical installation sector.
The vision of Deling Ltd. is to deliver a wide range of reliable and quality products to new markets, to continue fruitful and productive collaboration with existing customers, and gain trust of the new ones.