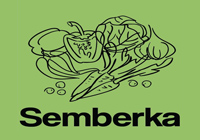 Semberka was once the pride of the region and generator of economic growth in Janja, but the production line was destroyed in the natural flood disaster of 2014. Thanks to the efforts of the parent company Bingo, Semberka started its production again and this region will be able to flourish again with a successful factory that is beneficial to all of its stakeholders – the company itself, the local population and local suppliers.

Our main production is based on producing dried vegetables and fruit, food supplements with vegetables, powdered spices, herbs and spices and fresh vegetables.
Main product of this company are Semberka food supplements, that are known for being greatly based on healthy vegetable ingredients of high quality and grown locally.
Product distribution is organized through its own resources and distribution channels, while the pricing is uniquely formed according to traditional business practice. These products have a long tradition as health food products, grown and produced locally.

Semberka is among the leading vendors in Bingo shopping centers. It holds JUS standards and it is currently working on obtaining HACCP and Halal certificate.
It currently employs 25 employees, ranging in 30 to 60 years of age with most employees being high school graduates.
Our vision is to become a leader in production of healthy and high quality food products.
Our mission is to offer a wide range of products to our customers.