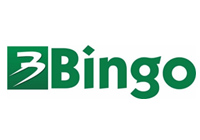 Bingo Ltd. was established in 1993 in Tuzla. In its 24 years of existence, Bingo developed a network of shopping centers throughout Bosnia and Herzegovina that currently counts 184 retail stores. Besides quality service and wide range of products, to its loyal customers, this company offers the lowest prices that justify its long term slogan: Bingo – the King of Good Prices! The main focus is on products and low prices. Wide product assortment includes: food, chemical products, cosmetics, clothing, household goods, and well-furnished baby centers.

Primary activities are trade, hospitality, and manufacturing. Shopping at Bingo stores is a true enjoyment due to the accent on local producers on the shelfs (in some cases up to 70% of the products are Made in BiH). In all of the shopping centers throughout Bosnia and Herzegovina there are modern playgrounds for the youngest shoppers and Bingo's own restaurants with selected menus at affordable prices.
Within the company there are 9 manufacturing facilities and 11 companies of other industries: Corn Flips Majevica Srebrenik, Semberka from Janja, Kaletex from Kalesija, and furniture factory Duka. Three years ago, a modern egg production farm was opened with production capacity of over 5 million eggs monthly. Soon after, chicken farms were opened, one in Špionica (municipality Srebrenik with the capacity of 60.000 chickens) and one in Dubrave (municipality Živinice with capacity of 90.000 chickens). In Tuzla, at the location Bosanska Poljana, there is also a pasta factory, where 50 tons of various pastas are produced, and paper goods factory (toilet paper, paper towels, and tissues) where over 40 tons of paper products are produced monthly. Semberka from Bijeljina is also owned by Bingo company and its sustainable growth is something to be proud of. All distribution is organized through its own distributions channels.
Bingo is also a partner in organization of different manifestations and events, daily donations, sponsorships, socially responsible activities, and campaigns with its partners. This company has received numerous awards for quality, QUADAL award for the best retail chain in 2015/2016, award for the best employer in retail sector in 2016, and the advertising award as top 10 advertisers in 2016 in FMCG sector.
Company Bingo is the leader in Bosnia and Herzegovina but it is also present on the international markets. It currently employs 5.500 employees, college and high school graduates, ages 20 through 60. It holds HACCP and Halal standards.
Our vision is to remain in the leading position as the greatest retail chain in Bosnia and Herzegovina and to continue with sustainable growth in partnerships with our customers, suppliers, and cooperates.
Our mission is to offer high quality service, rich product selection, and excellent shopping experience.