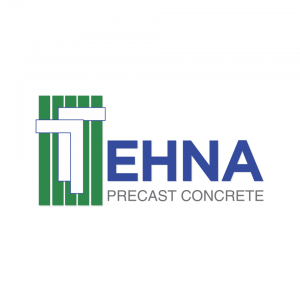 G.T.D. TEHNA Gracanica has been involved in the construction and installation of reinforced concrete constructions since 1997. Since its inception, the company has constructed the following objects: Mercator Tuzla, Interex Sarajevo, Slavija Banja Luka, Edoslad Gračanica, Berlijeta Visoko, Malcom Sarajevo, Laktaši Lowland, Robot Sarajevo and Eurogalant Gracanica.
Besides these facilities and buildings, the company Tehna has built more than 500 other small and medium structures.
The company has its own technology for the production of prefabricated construction parts, such as foundation plates, concrete pillars and pipes, ''T'', "L" and "Inverted T" beams, PI panels, crane beams, roof elements, "ZT" single and double roof slopes, "T" and "A" roof beams, secondary roof brackets, as well as "I" overhang brackets specially designed for bridge construction.
The manufacture of construction parts (prefabricated parts) takes place under ideal production settings, according to strict industrial standards. The assembly of prefabricated parts is carried out at the construction site. Carefully prepared concrete used for production of prefabricated construction parts in G.T.D. Tehna is regularly monitored and controlled by the Institute for Construction, Construction Materials and Nonmetals Ltd. Tuzla. After achieving the required early age strength of the concrete by using the steam curing method, prefabricated elements are removed from their molds and then placed in a warehouse. The whole process is done with all the necessary safety precautions and safety measures required for making a superb product. Afterwards, the assembling components are transported to the construction site where the assembly of all prefabricated parts takes place, resulting in a completely finished structure.
The range of services G.T.D.Tehna provides to its customers also includes the installation, production and assembly of precast concrete products (concrete pipes, concrete blocks for building and concrete curbs) and reinforced concrete pillars.
Benefits of prefabricated construction, which is also why clients value G.T.D. Tehna so much, are:
Cost-effective construction (speed, price and quality)
Modern fabrication (industrial and serial)
Industrialized construction (high degree of computerisation, coordination and rationalization of production parameters)
Highly organized production lines
Work specialization and standardization
Mechanized and automated production
Ability to adapt to all seasonal working conditions
Drastic reduction of man-made mistakes (minimizing human errors in workplace)
High quality prefabricated elements can be assembled on construction site within the time frame previously agreed upon
It should be noted that G.T.D. Tehna has an ISO 9001 certificate that guarantees international standards of production. This is an indisputable indication that G.T.D. Tehna fulfilled the required norm for quality and safe production, and aligned its commerce with an internationally approved standards and criteria.
The mission of the company is to deepen its lasting experience in the design and implementation of high quality construction projects, and to further affirm flawless and creative relationships with customers and business associates.
The company's vision is to be in the midst of the leading companies in the field of construction, to be the essential part of a prosperous community and to set a bright example with its future projects.