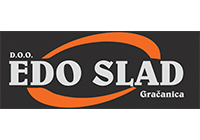 EDO-SLAD Ltd. had its humble beginnings back in the 70's of the past century, when the Kamaric family opened a pastry shop in small village of Dobosnica near Lukavac.
The main activities of the company are production, trade and catering, with a special emphasis on a successful tradition of producing quality cakes, pies and pastries. Today, almost four decades after, EDO-SLAD employs over a hundred employees and operates within several business units and divisions of production, trade and hospitality industry. The founder and director of the company is Mr. Edin Kamaric from Gracanica. Cake factory, the backbone of EDO-SLAD Ltd., is located in the village of Pribava near Gracanica, and the production in this facility includes huge variety of cakes, muffins and fresh pastries. EDO-SLAD has a proven system of training for all of its 129 employees, which is why all employees of the company have the adequate skills and knowledge required to carry out their jobs.
EDO-SLAD also owns the shopping mall ETNA. The most prominent segments of the ETNA Shopping Center, located in the business and commercial district of Gracanica, are Hypermarket and Etna Restaurant. Business Unit called The Supermarket is also a part of the EDO-SLAD Company and Etna Shopping Center, and it covers an area of 250 m2. The Supermarket has a wide range of consumer goods. Within the restaurant there is a modern children's playroom that allows customers to enjoy a coffee or a drink with their friends undisturbed, while their children are playing safely with the supervision of ETNA's staff. The restaurant offers specialties of international cuisine as well as delicacies of traditional Bosnian cuisine.
The company intends to expand and modernize existing production and hospitality facilities, which means that in the near future EDO-SLAD will expand its production of cakes, pastries and pies, and also add new facilities and services within the ETNA Shopping Center
The mission of the company is to meet the demands of consumers and market with quality products and a wide range of products in its retail outlets.
The company's vision is to achieve quality production on the domestic market and to always think ahead in the sense of production growth, constantly with the needs of customers in mind.