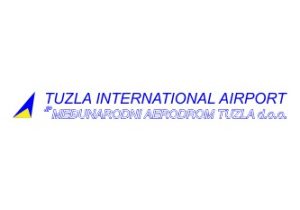 The main activity of the airport is to provide air transportation to almost all parts of Europe, as well as managing the international and domestic air traffic. Tuzla International Airport was established by the Tuzla-Podrinje Canton as Tuzla International Airport – Dubrave Airport in 1998.
In 2006, Tuzla International Airport acquired the technical conditions for meeting the ICAO (International Civil Aviation Organization) standards and on June 6th of 2008. Tuzla International Airport was granted a temporary Certificate for Public Use of Airports in International Air Transport for a period of one year. By acquiring this Certificate the airport opened for civil aviation. A year later, Tuzla International Airport was granted a Certificate of Public Use in International Air Transport for an unlimited period of time.
In May 2015, on its 11th anniversary, WIZZ-AIR made a fresh start together with Tuzla International Airport, announcing a complete modernization of its brand and fleet, all in order to meet the passenger requirements, thus taking its place among the leading European airlines. The airport, together with WIZZ-AIR, has provided a livelier, fresher and more sophisticated look and feel.
Some of the initiatives introduced in this cooperation are the introduction of new routes and destinations, the construction of an attractive passenger terminal and the reconstruction of the waiting area for passengers, the introduction of modern aircrafts, infrastructure improvement, seat allocation, priority for boarding, improved price system, online booking of tickets and luggage, flight cancellation options, and many more.
Most importantly, the number of lines introduced is steadily increasing each month, so it is possible to reserve flights to the Netherlands, Sweden, Switzerland, Germany, Slovakia, and very soon, the UK.
The new look of Tuzla International Airport certainly made an impression on potential passengers. In the past few years there was an enormous growth of air traffic at the Tuzla International Airport. Just in 2016. the number of passengers at the airport reached almost 320.000, compared to a modest number of 4000 passengers in 2012.
It is now quite certain that the number of passengers who go through Tuzla International Airport continues to grow in 2017, which means that the future of Bosnian air transport and Tuzla International Airport is bright.
Tuzla International Airport has a clear vision of economic growth, which implies opening new travel destinations modernizing the airport and fleet, cooperating with new airlines, and providing comfortable and fast flights to the desired city at extremely low prices.
Tuzla International Airport has a mission to provide its customers faster, more comfortable and more economical air transportation.