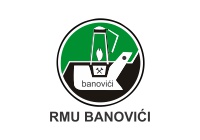 RMU Banovici started with the coal production in 1946. It is a profitable and robust company with a prestigious reputation in the country and abroad, a mining company engaged in the production, extraction and processing of coal. RMU Banovici produces over 1,500,000 tons of stripped coal, peat and lignite, mostly in the form of hard and soft coal.

The company consists of the following organizational units and production plants:
Underground and surface exploitation
Separation
Railway transport
Executive board
Standard and Services
Thermal Power Plant
The strip mining and underground mining of the coal is done on two open pits, where the excavation and exploitation of coal is performed by means of modern and high-yielding excavation mechanisms. The excavated coal is then transported by conveyers, rails and trucks.
Underground coal mining is being performed with the most up-to-date technology and remote control machinery. This is a modern production plant that significantly increases production and contributes to the humane work environment, and is, as such, a part of one of the largest investments in the history of mining in Bosnia and Herzegovina, worth over 23 million BAM. Rail transport has the function of transporting coal from manufacturing plants to separation facilities. It has a large number of locomotives and towing units – wagons, as well as a complete infrastructure and maintenance capacities. In the Separation plant, granulation and refining of coal is performed. The plant has two loading docks: one for loading coal on trucks and the second one for loading coal on railroad cars.
Standard and Services is a division of the company with dual function: food service for employees and hospitality tourism. The facility has its own restaurants and hotels, such as Restaurant Radnicki dom and Hotel Zlaca.
The Mining Executive Board is the headquarters of the Management and Professional Services organized in sectors, which are in charge of the plants. When it comes to the market, the complete production of the company's coal is sold both domestically and abroad. Approximately 70% of produced coal goes directly to Tuzla Thermal Power Plant. RMU's share of coal exports is about 17%, 5% of which is exported directly and 12% indirectly.
The remaining 13% of coal is sold to customers, for residential or commercial heating.
The mining company RMU Banovici currently employs 2798 workers, 217 of which are highly qualified personnel, which is 7.5% compared to the total number of employees.
In the future, given the huge market demands and soon to be released production facilities, the company RMU Banovici intends to hire additional 200 experts and new workers.
The company's mission is to respond to all market demands by offering a wide range of high quality coal, and to justify a long-lasting cooperation with its trusted customers, in the process.
The company's vision is to continue its successful business, to increase the volume of coal production, to go hand in hand with modern coal production and mine reclamation, and to hire new, capable workers.