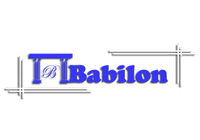 BABILON Ltd. was founded in 1996. The main activity of the firm is the design, production and sale of high-quality furniture in accordance with European standards. Today, the firm has 120 highly trained and experienced employees, some of whom work in the distribution of chipboards and other reproduction materials, some in furniture production and wholesale, and some are part of the Babilon sales center.

Babilon has several divisions:
B- Reproduction Materials is a division of the company that deals with import and distribution of raw material for the wood industry. It has been the part of the company since its inception. B- Reproduction Materials serve more than 300 faithful customers throughout the country.
The second segment of the company is the Manufacturing facility. Babilon produces tailor made furniture with desired measures and design, but there is also a serial and mass production of predesigned furniture.
The third part of the company is a Retail center where customers can buy and order Babilon's furniture, as well as the furniture made by other manufacturers. In addition to selling furniture, in Babilon's retail center it is possible to find wood flooring, laminate floors, carpets, curtains and other goods needed for home.
Babilon Ltd. manufactures furniture for kitchens, living rooms, bedrooms and children's rooms, such as American closets, cabinets, office furniture as well as other panel and tiled furniture tailor made at customer's request. The variety of company's furniture is based on panel furniture, as well as the upholstery furniture of high end quality.
The company's tiled furniture can be tailored to the customer's wishes in all countries of the European Union and Bosnia and Herzegovina, with the transportation and furniture assembly included.
More than 20 years of the company's experience is the guarantee of Babilon's high quality and maximum professionalism and serviceability.
With regard to its complete production, Babilon has 80% of the production focused on the foreign market (Europe, Africa and Saudi Arabia) and 20% with the eyes on the Bosnian market. Babilon Ltd. meets the strict European production regulations, which follow the production process from the beginning to the end. The same monitoring principles are applied when it comes to materials used for the furniture production.
In addition to Germany, the Babilon Furniture is exported to the markets of Slovenia, Croatia, Montenegro, Macedonia, Austria, Saudi Arabia and parts of Spain.
As of now, there is an ambitious plan for Babilon's expansion, with a new factory under construction and a strategically planned increase of production and new employment.
The vision of the company is clear: to justify long-standing trust of its customers, to open new production and sales facilities, and to win over new European and world markets.
The mission of the company is to design and produce quality furnishings in accordance with the needs of the market, and to invest in a contemporary and ecological production.